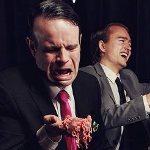 Posting at 2am means I've missed my daily deadline but today's roundup is packed with useful music news including two T in the Park 2013 previews. Discover more new music here.  
Being after midnight means that as I write this, it is July 11th and not July 10th. That was a run of 83 posts in consecutive days before submitting this one in the early hours of July 11th. I'm slightly miffed at myself for forgetting about my self-imposed daily deadline. Having completed a 34 mile exercise bike trek, I figured I could watch the Evil Dead movie remake and still have time. Doh!
Oh well. I'll write two today instead. At least it's given me a suitable reason to use a picture of Fraser from Fat Goth crying into his horse meat. Lovely.
Being T in the Park weekend, that's what all the Scottish media outlets are covering this week. I recommend giving The Skinny's preview a look over if you're going to the festival.
As I look over my various music info feeds, I don't see any single story jumping out at me and I'd prefer to give the new album by Adam Stafford its own post. Y'all is fantasy island were a criminally ignored band but thankfully people are saying nice things about Adam's latest solo release.
The Murderburgers who I did a post on not so long ago have announced October 8th as their next album release date on Asian Man Records. Expect that to be worth a purchase.
65 Days of Static had their gear stolen. It's always a shitty thing to hear about and Edinburgh's The Birthday Suit suffered a similar experience not too long ago. Fingers crossed they get some of it back but not sure how realistic that is. That's the problem with places like Cash Generators and Cex, they may as well advertise themselves as Crime Generators – allegedly.
The Future Library podcast page will be updated on this site soon. Alex posted on Facebook today to say he's lining up the next two shows and I'm going to find time to embed all the episodes so far on my podcast page. I'd also like to tart it up a bit so that the links to other Scottish music podcasts look more appealing. Text links are so 1995. As always you can subscribe to the podcast series via iTunes or visit alonetone.com/theealex and in addition, I'll embed each episode on this blog.
Not only have Rusty Hip launched the second edition of their print zine, there's a compilation that's goes with it. 13 tracks of underground tunes for your listening pleasure. Stream or help yourself to a free download. They've gone to the trouble of curating the sounds so take a few minutes to find at least one new band you enjoy.
Fresh from his SAYaward win, RM Hubbert has announced details of the follow-up "Breaks & Bone" which will be available on  LP / CD / DD on the 27th of September. With his media profile rising don't be surprised if this new album gets the exposure that 13 lost and found very nearly didn't. You can listen to an album trailer on his website.
Popular Glasgow bar venue 'Bloc' has its own tumblr. All the cool kids have one. Feel free to bookmark it and keep an eye on what bands and artists are playing there in the upcoming weeks and months.
And Finally… write yer ane zine have written a preview of DIY acts playing T in the Park this weekend. A rare occurrence but a welcome one. It's an interesting counterpoint to The Skinny's preview with more of a punk/DIY perspective.
Phew! That's your lot for now. I will attempt to sleep after watching that scary movie. Most likely having checked under the bed and leaving the lights on.
Share This Article...