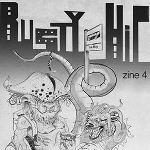 Friday 14th of March! Tin Roof! Dundee Rock City! It's Rusty Hip Collective launching a zine time again. Who needs grammar when you've got art?  
As Model Aeroplanes and Vladimir continue to build the buzz coming out of the Dundee music scene, the underground threatens to spill over into plain sight. Slamming the defibrillator pads around your head and cranking up the voltage this month is THE RUSTY HIP COLLECTIVE.
Y'know, the guys Alex interviewed waaay back on the podcast number Ages Ago. No? Well catch up then!

Dundee's music scene is coming together on Friday 14th of March at Tin Roof (where else) around 7.30pm to celebrate issue four of the zine, no less. In case you're wondering, yes – they do an actual printed zine with paper and ink and words and everything. None of this internet nonsense. Alright, well maybe a little then because they do have a website (inconveniently down as I write this so I'll link to their bandcamp). And a Facebook page. And a Twitter but you'll have to find that yourself.
In their own words…
"The awesome Gordon Crawford knocked this amazing poster up for our next launch. He'll be exhibiting his work along with live music from Judges, The Won Over and Frown. It's a week on Friday – come along!!!!"
All things being sideways I'll be there and might even write a piece on it. Donations at the door.
Music from:
Frown - https://frownofficial.bandcamp.com/
The Won Over http://thewonover.bandcamp.com/
JUDGES- http://soundcloud.com/wearejudges
Art from:
Gordon Crawford - http://gordonacrawford.weebly.com/illustration
EVENT PAGE: https://www.facebook.com/events/617232821700598/
Share This Article...