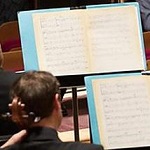 City-based mini festivals come thick and fast in Glasgow. The latest for your consideration is Tectonics Festival 2014. Whereas normally the phrase, "experimental music pioneers", would have us reaching for Kryten's red alert light bulb, in this case it's an apt description.  
Last year's Tectonics Festival passed me by. With a name that conjures up images of a Lego Rave I'm not surprised. It is the year of Rave Tapes after all. Tectonics? Isn't that what they use in Lucozade sport so that it gets to your bloodstream fast. There may be a question mark missing from that last sentence.
For kids interested in music, teaming The BBC Scottish Symphony Orchestra up with rebels from their respective genres could prove a masterstroke. That is, if any kids recognise names such as Thurston Moore or Bill Wells.
The Skinny's excellent preview piece frames the event as a musician's music festival if that makes any sense.
As it stands my gig calendar is empty in May. Pencilling in Tectonics makes sense. I already missed Joy Kills Sorrow at Celtic Connections due to other commitments. Going on a burger run with Fat Goth during their album recording counts as a commitment, right?
For opening night concert info visit: http://www.bbc.co.uk/events/ewhc6q
Facebook events page info here.
Share This Article...