Jarrod Bramson of Port Townsend, WA duo Solvents talks to Alex about the benefits of isolated music scenes, whether television really did kill the radio star, and a shared dislike of Amanda Palmer.  
Music duo Solvents combine violin and acoustic guitar to create beautiful country-tinged melodies. The subtle melancholy of their songs may remind Scottish music fans of The Zephyrs, or Dundee's The Strangers Almanac.
Download Episode #34 – Solvents
Solvents hail from Port Townsend, Washington USA. Alex and Jarrod's paths crossed once upon a time on the K Records messageboard and on this podcast they catch up on what's been happening since.
On most if not all podcasts to do with music, the show will play a track to do with the artist in question. Future Library doesn't do that and although I found it refreshing in the beginning, during this episode I did find myself pausing it, playing two Solvents tracks on bandcamp, before returning to the podcast.
Should we add music tracks to each episode? Let us know by tweeting @futurelibrary1

All feedback appreciated!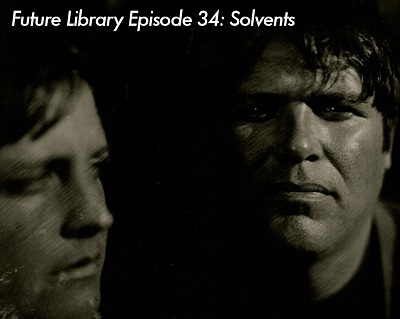 Share This Article...