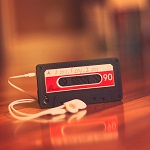 Improvisers Colin Webster and Graham Dunning talk to Alex about playing live, art, and running record labels. Along the way we achieve two firsts for the podcast – a live set from the guests, and the whole thing being video as well as mp3.  
A couple of points before we let you loose on the latest episode of Future Library. Thanks for the emails of late with music recommendations. I'll check them out as soon as I have time and blog about any that float my boat. I do appreciate the emails so if you don't get a reply, this is me saying that I do read them and I do my best to reply when possible. Unfortunately, my dayjob is keeping me insanely busy these days and I find myself catching up on music-related things on Sundays.
Here's one of them – it's Future Library episode 47. Enjoy!
http://grahamdunning.com/
http://colin-webster.blogspot.co.uk/
Download Episode #46 – Improvisers
Share This Article...