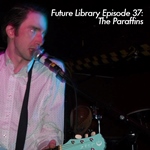 Billy Samson, front man of Glasgow band The Paraffins steps through the door of darkness into a very peculiar episode of Future Library. Really, this one can't be described, you just have to listen to it… if you dare.  
The great thing about Alex writing the intro blurb for the podcast is that I don't have to think too much about it. My job is to simply present to you, the banter with a random artist enthusiast, the latest episode. Despite Billy being Scottish, the Bristol scene gets yet another shout out with a detour early on with confusion between Ballboy and a similarly named outfit from Latvia. This soon follows onto the culture vs. noise debate.
Particularly amusing is the bit where they discuss Bryan Adams and how he possibly bought a london pub just so he could shut it down, allegedly. And the fact that he wears his guitar everywhere all the time.
Enjoy!

Download Episode #37 – the Paraffins
https://www.facebook.com/theparaffins
http://theparaffins.bandcamp.com/
Share This Article...