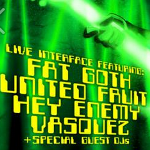 HUMAN IS NOT ALONE is three charity concerts and a compilation uniting the UK DIY music scene in support of Marie Curie Cancer Care. Today they announced the tracklisting and it is a tasty one including FUGAZI and more.  
I've mentioned it before and I'll mention it again. Next month, there will be a series of shows in Edinburgh, Glasgow and Dundee. The bands playing are ace and the funds raised will go to a very worthwhile cause. Chances are you've heard the name and you're thinking of going along to support. In the words of Franz Ferdinand, Right Thoughts, Right Words, Right Action.
So BOOK YOUR TICKETS NOW and don't make me go all Heisenberg on your ass.
OFFICIAL COMPILATION TRACK-LIST:
1. RM Hubbert – Jumphang
2. The Shipping News – Axons + Dendrites
3. Dead or American – St Thomas' Well
4. American Men – Tenzin Zopa (original mix)
5. Laeto – Portals In Your Home
6. Fugazi – Closed Captioned (live in Aberdeen, Scotland)
7. Fat Goth – Surf's Down
8. Hey Enemy – Hit (previously unreleased)
9. United Fruit – Nothing To Feel (previously unreleased)
10. Vasquez – Flight of The Bad Thing (previously unreleased)
11. Titus Gein – We Have Powers (previously unreleased)
12. Zu – Solar Anus (live in Helsinki, Finland)
13. Geisha – Dutreux Believer
14. Iron Crease – Ever De-creasing Circles
15. Lapsus Linguae – Platypus (previously unreleased)
16. Macrocosmica – Torch #1 (split 7″ version)
Released Sept 16th 2013
BOOK TICKETS NOW FOR THE NEAREST SHOW IN SCOTLAND TO YOU

Share This Article...