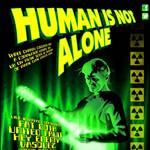 From September 19th-21st 2013, discover three charity concerts & a compilation uniting the UK DIY music scene in support of The Marie Curie Trust. Please read and share this info.  
WHAT IS IT?
The "Human Is Not Alone" Campaign was started by Robbie Cooper in gratitude for the services offered to him and other sufferers of cancer by The Marie Curie Trust.
The name is taken from the title of a song on the 2004 album "Zwoa" by Robbie's own band Laeto.
The campaign involves three charity concerts and a compilation uniting the UK DIY music scene in support of The Marie Curie Trust.
WHO IS ROBBIE COOPER?
Musician, psychologist, 6ft 6 basketball king, Carcassonne enthusiast and DIY promoter.
For an insight into Robbie's experiences with cancer and his ongoing battle please visit his blog where he documents his thoughts as well as reflecting on cheese scones, 80s Rockumentaries and Lance Armstrong.
HOW WILL IT HELP THE MARIE CURIE TRUST?
By raising awareness of the wonderful work done every day by The Marie Curie Trust and in turn raise money to help them continue that work.
HOW WILL IT HELP LESSER KNOWN ARTISTS?
By giving voice to the underground and DIY musical movements in the UK and show that, far from simply a marketing utensil and commodity, music can still represent something greater to people and benefit their wider community.
WHERE ARE THE SHOWS?
EDINBURGH Sept 19th – The Electric Circus
GLASGOW Sept 20th – Stereo
DUNDEE Sept 21st – Non-Zero's
WHO'S PLAYING?
FAT GOTH
UNITED FRUIT
HEY ENEMY
VASQUEZ
+ special guest DJs
HOW MUCH ARE THE TICKETS?
Tickets are a very reasonable £6 and available to buy now online from MusicGlue.com
WHAT'S THIS I HEAR ABOUT A COMPILATION?
The compilation "Human Is Not Alone" will be released on September 16th 2013 with all proceeds going to The Marie Curie Trust. It is curated by the right honourable Dr Robbie Cooper and serves as a retrospective of his work in the Scottish music scene to date.
It will feature music – including a number of rare/previously unreleased/exclusive tracks – kindly donated by the following bands:
Laeto,
Fugazi,
Iron Crease,
Zu,
Fat Goth,
Lapsus Linguae,
United Fruit,
Hey Enemy,
Vasquez,
American Men,
Geisha
… and more
WHAT CAN I DO TO HELP?
Please help spread the word about the shows and the compilation. All of this information and more can be found and shared via the Facebook Page for Human Is Not Alone.
Write your own blog post or social media update telling your friends about this campaign.
It's for a very worthy cause and a celebration of great music.
GIG TICKETS AVAILABLE NOW FROM MUSICGLUE.COM
Share This Article...