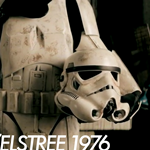 Film Director/writer Jon Spira discusses his movie 'Elstree 1976', a look at the lives of the men and women behind the masks and prosthetic alien faces in Star Wars.
Having been interviewed previously on the podcast for his 'Anyone Can Play Guitar' documentary, Jon Spira is back again. This time he's telling us all about his latest project – ELSTREE 1976 – which promises to be yet another fascinating insight into what makes people tick. If the previous one had music as the backdrop to its storytelling, this time our backdrop is cinema.
Exactly how did the extras in one of cinema's most iconic films get on with life afterwards? You don't need to be a Star Wars fan to enjoy this revealing look into the human psyche. Listen now and don't forget to visit Jon's KICKSTARTER campaign.
Enjoy!
Download Episode #48 – Jon Spira / Elstree 1976
Documentary trailer:
Share This Article...