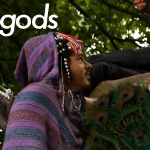 Karthik and Craig of Bahrain/London psych-jammers Flamingods speak to Alex about the economics of selling music, 'Ben Hur', recording an album over the internet, pizza, and what not to put in the DVD drive of a MacBook Pro. 
Before you jump ahead to the latest podcast link, I'd like to point out that there's a reason why the economics of selling music keeps popping up. Time and money are always damaged in the process of recording and releasing music. Spotify like a lot of other conveniences makes us lazy. Embracing change and technology shouldn't be at the expense of encouraging those who make music and art.
If you're not going to buy music from an artist and you love their work, find another way to express that to them. Being reduced to a generation of people who won't go further than clicking the 'like' button would be a fucking sad state of affairs.
Today we're back from that far, far away galaxy as Alex chats with Flamingods. Enjoy!

Download Episode #49 – Flamingods
http://flamingods.bandcamp.com
Share This Article...