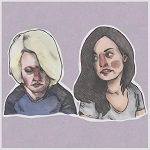 Believe your ears. Honeyblood is the real deal live and will prove the doubters wrong. This is one of the strongest songwriting displays from a noise-pop Scottish band on the underground circuit right now.  
The indie rock lottery can spark jealousy and envy in equal doses.
We all know how important marketability is to the music industry when it comes to choosing who to get excited about next.
For bands outside of Scotland's central belt in particular, the struggle for exposure would be almost overwhelming if it were not for organisations such as GoNorth and grassroots collectives such as Rusty Hip. There may be people outside the Glasgow scene bubble looking in and wondering what's with all the hype around Honeyblood. The limited audio tracks released so far are not exactly earth-shattering.
As always, curiosity gets the better of me and together with friends we're off to tonight's gig at Flat 0/1 as part of the MILK curated series of shows. The bill comprises of Honeyblood, The Yawns, and Secret Motorbikes.
Everything In Its Right Place
HONEYBLOOD answer every single doubt you might have with a live set that sounds so right it might leave you feeling slightly giddy.
Those of us who have been around long enough to know how the hype-to-obituary cycle goes tend not to overstate things. We know that the bands getting all the attention today are unlikely to be around and successful five years later. For example, as much as I love Glasgow band UNITED FRUIT, getting on the cover of The Skinny didn't change their marketability any. They're still ploughing around the underground without being able to take things up to the next level. For now at least. Fingers crossed their new album pushes them forward.
As a duo, the two musicians in Honeyblood keep things simple. If The White Stripes had been part of The Year Punk Broke but with a Scottish female version of Jack White, they might have sounded like this. This is genuine slacker pop without the hint of careerism that other bands such as BIG DEAL struggle to dispel. I bought Big Deal's debut album and it's a slick, polished effort with clear ambition to get on the radio and has been featured on several TV shows such as Made in Chelsea. By contrast Honeyblood is not light on high fibre crunchy fuzz.
Interestingly, one of my friends Alison made the observation that singer-guitarist Stina Marie Claire sounds a lot like Roz from MISS THE OCCUPIER. Scottish accents aside, the two ladies possibly share many of the same influences. Which takes us back to the idea of the lottery and songwriting. Miss The Occupier's wiry and tangent prone riffs – while excellent – has rarely made them as straightforwardly accessible to the ear as Honeyblood. It's a subtle difference given how much in common both bands have.
Cynics who doubt Honeyblood's worth due to the growing hype need to hear this band live. In almost 17 years of going to local gigs in Scotland and following unsigned bands, rarely have I heard songwriting this Mudhoney-esque fuzzy while at the same time pop-tastic. I could write a separate piece on why the recorded material is trying too hard to be something else but that's for another day. Every band needs to find its own voice as opposed to emulating heroes. This is an up-and-coming band you must see live.
Lest We Forget
The other bands performing at MILK were this blog's faves THE YAWNS as well as SECRET MOTORBIKES.
Part of the charm of THE YAWNS is the loose feel the songs possess without falling into shamblecore. On nights where the band members find it difficult to hear themselves through the stage monitors, things can get a bit too loose. At times the set suffered slightly as a result. I've watched them on enough other occasions to know the difference. When it all comes together it does sound wonderful and with more originality than most.
When the two bands on before you showcase songwriting of immense quality, any deficiencies you have will only be magnified. Had they opened the gig, SECRET MOTORBIKES would get more slack. As the third band on of three, some observers may have felt the night peaked very early. Their take on surf and garage rock sounds better in print than it does in its present live form. They have the right idea but lack the dynamics and variation to make things interesting enough to hold attention from a more non-partisan audience. However, it's early days for the band and gigging further afield more often should help them figure out what needs a bit of surf wax and what needs a buzz cut.
Follow MILK Glasgow shows on Facebook and see the photos by Beth Chalmers taken at the gig.
Listen to Honeyblood on Soundcloud
Listen to The Yawns
Listen to Secret Motorbikes
Share This Article...