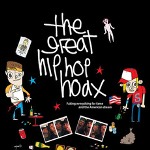 Documentary film The Great Hip Hop Hoax explores ambition, friendship, rejection, integrity and relationships as well as confirming what we already know about the major label music industry – being marketable is all that matters.  
Unlike some low-budget documentaries, The Great Hip Hop Hoax is getting press. A lot of press. In fact, there's most likely another review or interview being written right now as you read this. Huffington Post UK even gave it Documentary of the Week.
So let's put on some Ugly Duckling and get in the mood for random wordsmithery.
DOUBLE FEATURE AT THE DCA
With the dodgy weather making any outdoor activity an unattractive proposition, I spent last Saturday afternoon at the DCA in Dundee. The plan was to see Upstream Color – the new film by Primer director Shane Carruth – and catch The Great Hip Hop Hoax afterwards.
There's so much you could write about Upstream Color that I'm going to take the easy way out and tell you what Rotten Tomatoes said:
"As technically brilliant as it is narratively abstract, Upstream Color represents experimental American cinema at its finest — and reaffirms Shane Carruth as a talent to watch."
Which sums it up nicely. Netflix subscribers in the UK should hotwire their IP address and watch it now on Netflix U.S. They look the other way as long as you keep paying your sub.
Now that I've done my quick plug for that mind-bendingly fantastic movie, our attention can focus solely on a documentary with one very strange story to tell. Maybe you should watch the trailer before you read any further. It'll only take you a minute.
Here's a taste of The Great Hip Hop Hoax:
And that should give you an idea what to expect.
Yup, it's insane. Two guys from Scotland pretending 24/7 to be from California. Not only that but they score a record deal with Sony, support D12, appear on MTV, and generally piss away their record label advance.
If I cast my mind back to 2004, there were rumblings on a Dundee music scene messageboard about this. Like many others, I heard the story in passing at the time and thought it was some sort of exaggeration. Logic would suggest they must be singing with U.S. accents but surely not pretending outright that they were from the States. Well, logic be damned. That's exactly what they were doing and it makes for one compelling documentary.
One of the most interesting comments comes from the video guy responsible for shooting band content for Sony. Before every band had a YouTube channel and content marketing plan, video for new artists wasn't something artists approached in the way it was done with Silibil N' Brains. He says that many of the things he does with bands all the time now, he did for the first time with Silibil N' Brains.
Being marketable is more important to major record labels than anything else and this film shines a spotlight on how far you can go when you tick all those marketing boxes.
Directed by Jeanie Finlay, you can catch it this month at various arts cinemas in Scotland and the UK.
Share This Article...