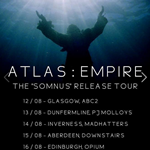 Glasgow's Atlas:Empire release their second EP Somnus this month. As with most post-hardcore influenced bands around town it's less Drive Like Jehu and more super polished in its approach.  
The lovely people from A Badge Of Friendship emailed me as part of their promo efforts on behalf of Glasgow band Atlas : Empire.
The band's second EP, Somnus, comes out on August 12th via Cold War Legacy Records. Would I like to write a few words about it? Sure, why not.
Listening to the EP is a combination of pleasure and frustration.
Before I get any further ahead I'm going to write my usual mini-rant on the use of the word progressive in band biogs.
CREATIVE BOUNDARIES
I object strongly to the use of the word progressive when the music is not progressive. At all. Maybe to fans of Fall Out Boy it's progressive. Whatever the yardstick is, beyond which we deem music to be progressive, I'm not allowing it to be determined by whatever sells out gig tickets in a nanosecond these days.
There's a trend of bands in 2013 writing songs which are a mix of post-hardcore / epic indie / post-rock which they label as "progressive". I'm not hearing any jazz influences or experimental time signatures. I do hear some noodling, followed by the omni-rhythm dur-dur-dur-dur followed by some more noodling. Which I personally like but that's not the fucking point.
Ever since Biffy Clyro took a page out of Jimmy Eat World's 'Goodbye Sky Harbour' playbook, everyone from Twin Atlantic to whoever's onstage at Broadcast tonight has created a post-emo indie rock derivative. Looks like I'll be linking to Scotland's Musical Heritage On Verge Of Joining eHarmony for awhile yet.
If you're passionate about music it's OK to say, "I want more. I want you to push yourselves beyond what creative boundaries exist in your own record collections." Any fool can criticise. They usually do. That's not what this is about.
No matter how amazing your record collection is (Atlas : Empire reference Oceansize and Aereogramme as influences) there's a simple question as a band you have to answer - if I already own records by those bands and their peers, what are you bringing to the table?
INTELLIGENT HARD ROCK
As I listen to each track on Somnus I hear the sound of an intelligent hard rock band trying very hard to form an emotional connection with the listener. There's a yearning quality in the earnestness of it which reminds me of the vocals of French band Daria. The band is reaching for something. They possibly haven't figured out what that is yet.
The fretboard screaming guitar parts on opener 'Keep This in the Shallows' are a bit Radiohead OK Computer era and sound dated. It's the only negative in an otherwise impressive start to the record. You'd be forgiven for thinking you'd put on Laeto's 'Make Us Mild' album by mistake.
By second track 'Mitchy Valentino Sleeps with the Fishes' we're into straight ahead hard rock territory that takes the odd detour into super polished At The Drive-In-esque noodling. The kind you'd expect to hear on MTV Rocks or whatever the fuck they call that channel these days.
This continues during track 'In the Arms of the Abyss' which musically is my cup of tea albeit reminds me of many other bands. The vocals by this point have started to make me wonder if listeners will respond with a love/hate reaction. There's something 'early U2 goes Screamo' about them which I could see being massively popular with teens. For me the OTT vocals act like a huge distraction from the riffs. Probably as a result of me listening to far too much Mogwai.
'…off the map' is the lighters in the air moment on the EP. The band are aiming for hauntingly beautiful. Is it too thought out and over calculated? I'm guessing that Twin Atlantic have songs like this that get ridiculous amounts of airplay. For me it lacks any raw vulnerability or brittleness to say they pull it off. It's slick, polished and a lot of people will like that. Fair play.
Last track 'Binary Lung' is exactly what I'd expect a band of this genre to have as their last track. It's epic-indie rock with a balance between emotive vocals and screaming.
If the PR push for Atlas:Empire's Somnus EP doesn't generate eye-catching review quotes I'll be surprised. There's an impressive level of talent on display. The execution will appeal to a lot of music fans.
If they can grow beyond their influences and expectations of the genre we might hear the heart under all the rock precision.
Share This Article...