LIVE REVIEW: Day three of 'OTHER' creative arts project launch in Dundee featured short films shown between St Kilda Mailboat, The Won Over, and Little Anchors at Duke's Corner. 
[tv voice] Previously on petpiranha…
What is OTHER? Why is arts promotion so poorly covered by Dundee's local media? Does Mark Keiller eat anything other than chocolate spread?
If you've read yesterday's article then you'll know that a series of events was held over the weekend at Dukes as part of the launch of OTHER. The only reason I was present at the Sunday show – the third day of the launch – was due to Ross of Little Anchors telling me about it on the Saturday night while in the Art Bar.
So I said sure, I'll go along. It was only when I arrived at Dukes and saw the National Theatre of Scotland banner and promo material kicking around that I realised there was more going on here than just another gig. For a start, three PCs were set up at one side of the room where the live music takes place. If you had been there you'd have seen a flyer like this one on your table.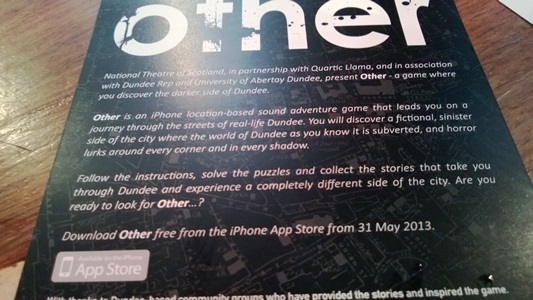 This was not your run of the mill gig. Short films were being shown, made especially for the National Theatre of Scotland's production 'Other', accompanied by three acts – St. Kilda Mailboat, The Won Over, and Little Anchors. Which brings us to the music.
St. Kilda Mailboat is a boy-girl duo who combine performance art with "post-apocalyptic skiffle" according to their Facebook page. Tell you what, why don't you just watch this:
See? How cool is that?!! You can't help but fall in love with this kind of mischief. Most of their live set was performed on stage but one or two songs were performed out on the floor with the audience. Lightning Bolt eat your heart out.
St. Kilda Mailboat could be dismissed as a novelty act but with songs that last longer in the memory than most indie bands, there's substance there too. To prove my point, they have a 7″ available to buy now from Glint Recordings. Book them now and add a large helping of fun to your otherwise drab indie rock night.
Little Anchors is the name of Ross Middlemiss' solo work. With Dundee band Pensioner no more, Ross engineers other bands' records and dabbles with his own projects. Hugely talented, he shares with the audience acoustic versions of songs he released online via bandcamp not so long ago. Which if I'm not mistaken features him playing all the instruments himself except for the string sections. Dave Grohl eat your heart out.
Scottish singer-songwriters tend to only get media coverage if they're released on Chemikal Underground or Fence (both excellent labels) so don't expect to see much written about Ross. The fact that much like Rod Jones and The Birthday Suit, there is real songwriting craft on display here with – dare I say it – superior vocals and it just adds to the ongoing neglect as regards Scottish media (non)coverage of the Dundee music scene. I'd quite happily pay to hear everything he records and the fact he covers 'Game of Pricks' in his set just makes me grin that bit more.
"You can never be strong, you can only be free…"
The Won Over brought the afternoon show to a close with three of the four band members performing a set. Drums were absent, keys were added alongside an acoustic and an electric guitar. It was a more subdued, atmospheric set which the audience listened to respectfully without the need for chatter.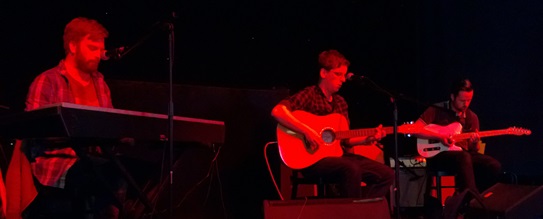 In terms of tone this departure for them still sounded like an Autumn evening as the nights get shorter. Not 3.30pm on a sunny afternoon at the beginning of June. The band's set was arguably the most suited to the ideas behind OTHER in that you could imagine listening to these types of songs as you walked between moody locations.
But given the thriller/horror theme of OTHER, you do have to wonder why it was launched at the start of Summer and not Autumn. Inappropriately launched transmedia creative arts spooky project – eat all our hearts out.
Share This Article...