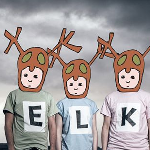 As positive as the SAYawards can be, the local media coverage could lead to unsigned Scottish releases getting buried this month. Nonsense or some truth to it? GARDEN OF ELKS' debut EP is on today's agenda. 
Managing social media music spam/updates became easier for me by creating a public Facebook 'Scottish indie rock' news feed and twitter lists for bands & general music info. That still hasn't stopped the SAYaward update avalanche in recent days.
This blog has had a homepage graphic link to the SAYawards website since before the content went live. I fully support it. It exists to help Scottish music reach a wider, more global audience. For the benefit of the Scottish music industry it exists for the greater good. They've even included two globally recognised artists this year so that mainstream media outlets have an easy hook to latch on to.
If that helps keep Chemikal Underground and other indies in the press and selling records that's a positive thing. By highlighting the very best albums there's always the possibility that music fans will dig deeper and discover acts that they might never have investigated before, especially if they find music blogs like IsThisMusic?, AyeTunes, Peenko, or Scottish Fiction.
The case for the defence rests, m'lord.
That's the easy part. Writing the case for the prosecution could attract negative attention from people less inclined to enjoy the debate. If you're based in Scotland and influence the music industry narrative then it's in your own interest to have friends who don't look too far beyond the usual suspects. Exposure has replaced distribution as the holy grail of sorts for record releases so whether tiny labels like armellodie.com get a fair crack of the whip from the Scottish media is a question I can pose but not answer. As Garden of Elks put it on twitter, "Woawza… Interesting discussion point…"
GARDEN OF ELKS DEBUT EP
Niall (aka hairy cunt from Bronto) has mutated away from popular beat combo Bronto Skylift and now fronts this scuzzy lo-fi trio, Garden of Elks. Given my recent rant on genre boxes let's indulge in utter hypocrisy (everyone is doing it these days) and cram the band into 'raucous rollus' – that which entertains in the vein of biggus dickus.
Older heads who enjoyed the chaos-pop of Urusei Yatsura or Magnetic North Pole will love the four tracks on 'Extended Play'. The female vocals that support the main are not unlike the way Macrocosmica approached their own songs. As I write this I'm thinking if I use any more references like these I'll have to rename their previous single to, 'This Morning We Are Retronauts' – I'll let you find the correct title from my YouTube playlist.
Garden of Elks are streaming the songs from the debut EP – for a few days only – over on Soundcloud.
The songs are exactly what I expected without being dull or too predictable and definitely grow on you with repeated listens.
Providing you're not adverse to songs being rough around the edges, having one of these tunes come up on your latest playlist will never disappoint. You can order your own copy now and then rip and burn it to your heart's content. After all, where's the fun in only ever listening to music handed to you through Spotify?
GARDEN OF ELKS DEBUT EP 'EXTENDED PLAY' IS AVAILABLE TO BUY NOW ON CD + TAPE
THE BAND PLAY THE GONORTH SHOWCASE IN INVERNESS: Thur 6th June, Madhatters, 11.30PM
Share This Article...