To praise or critique Dundee band VLADIMIR, that is the question. Because bleak-pop sounds like an oxymoron from where I'm standing. If I can look past the presentation, there's tunes worth hearing waiting to be discovered.  
They're friends with Dundee rock-pop band The View. They're picking up press from the likes of Artrocker, and with the right connections it's only a matter of time before the NME lay claim to them. So what makes me hesitant to write about Vladimir?
For a start, let's make one thing clear. I don't write about bands I don't like. There's enough negativity on the internet without being part of the keyboard warrior rainbow laser force. Funk that. Last year's Vladimir single 'Come Over' is a London hipster's wet dream. I can't decide if it's astonishingly great or some kind of Spinal Tap-esque joke at the last decade's music journalism. Let's hope it's the former.
Could it be that Vladimir are to Joy Division/Jesus and the Mary Chain what METZ are to Nirvana? That's the crux of the matter. When almost every NME band of the 2000s had Joy Division as an obvious influence, here's the Dundee scene producing an echo long after the fact. For a band so young with so much potential, it's not a bad place to start.
Bleak. The word bleak appears in every piece written about them. You wonder if press releases said their genre was jazz odyssey whether writers would accept that without further analysis or thought. Bleak? It's not sugar pop but definitely indie rock. If we cast our minds back to the days of Good Charlotte and punk-pop there's no doubt that the punk aspect was not at all strong with that band. I take issue with that level of genre marketing bullshit, and progressive hardcore that isn't progressive grinds my gears in a similarly pedantic fashion.
What constitutes bleak? For me, it has to be that famous picture of Richie Edwards of the Manic Street Preachers having cut his arm deeply in several places outside a venue to illustrate his sincerity to his art.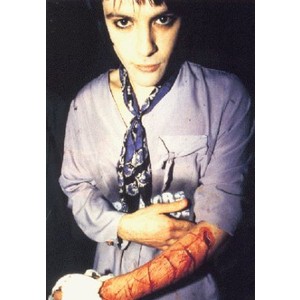 So you'll forgive me if I believe there's a difference between slightly moody and christ-this-guy-might-kill-himself level of darkness. Show me the self-destructive tendencies that have nothing to do with ladrock and everything to do with self-loathing and then – just maybe – will we see what bleak looks like.
Isolation and despair sit alongside bleak and the fact that Vladimir can successfully open for The View tells us that they're not a band in danger of alienating indie audiences by being miserable.
If 'Come Over' is anything to go by, critically acclaimed indie rock from Dundee might be a phrase we hear more of in 2014.
Visit Vladimir's Facebook page
Share This Article...