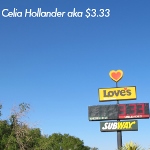 Alex talks to musician and visual artist Celia Hollander about her music under the name $3.33, the joys of Ableton Live, the secret Apple store in the middle of the desert in Australia, Tokyo, and a few other things.  
You can always rely on Alex to find music that few others have heard of. If Boards of Canada is too mainstream for you (ha!) then get a load of this.
The track above is number 10 from the album "$ ." by Celia Hollander aka $3.33
A lack of knowledge when it comes to all things experimental and bleepcore means that you can take anything I write here with a pinch of WTF. In this genre, recommendations are more likely to be responsible for what I listen to than actively going out and finding it for myself. Inotherwords, if you put a gun to my head and said name five artists on WARP then I'm fucked. I mean, how am I supposed to know that Battles, Grizzly Bear and the rest have their home there?
If I listened to BBC Radio 6 Music more often perhaps I'd have a better chance of surviving my imaginary gunpoint scenario. Usually the pattern of my discoveries involves an artist followed by the realisation that 6Music had a show dedicated to them the month prior. Damn you 6Music.
If they have yet to feature $3.33 then that would be an event of cosmic proportions. The latest episode of the podcast does make you wonder though where the most remote Apple store in the world is. Write your answers in the comments section below.
Enjoy!
Download Episode #29 – Celia Hollander aka $3.33
http://www.celiaraehollander.com/
Share This Article...