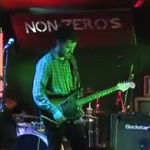 There once was a band called Pensioner. They made one compelling record and then split up. One of the songwriters Ross formed two new bands. One is Little Anchors. The other is Enemy Airships. We shot a video of their first gig. 
Back in the Autumn of 2013 I organised a Halloween gig at Non-Zeros in Dundee. It was a three band bill featuring local acts ENEMY AIRSHIPS, THE SPARROWHAWK ORKESTRAL and DARIA. The show was part of Daria's first UK tour having come over from Angers, France.
The guys in Enemy Airships very kindly offered to open the show as their first gig. In doing so, along with the help of The Sparrowhawk Orkestral, we managed to pull in a half-decent crowd on a Halloween night.
Although it was going to cost a few quid, I hired Man Alive Studios to professionally film all the sets. It was a simple setup, one stationary camera and one handheld 'down the front' camera. Nothing fancy in the edit, it is what it is. This is the first clip we're making available to watch with the other two bands' sets to follow shortly. Feel free to watch it on YouTube in 720p and turn those speakers up! And kudos to Dave and the staff at the venue for being super nice folks. Kudos indeed.
For more info:
Share This Article...