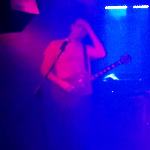 FAT GOTH returned to Glasgow's Bar Bloc as part of a series of gigs to road test new material that makes current record STUD sound like only an appetiser. It's time to go very far down the rabbit hole with Scotland's prog-metal pioneers.  
First off, there will be occasions where I don't put GIG REVIEW or the name of the band in the blog title. This is intentional. Seeing posts formatted that way all the time is tiresome. It's not like this is a proper music site with regular reviews and that sort of thing.
For an unsigned Scottish band Fat Goth had a mountain of press this year but that matters not a jot. I'd still be writing about them whether anyone else cared or not because I've been relatively close to their other artistic efforts over the last ten years or so. It's only because of the collapse of recorded music physical sales that they haven't been snapped up yet by a label. Nobody wants to sign a band who will be difficult to market and that my friends should tell you all you need to know about why great Scottish bands are going down the DIY route now more than ever.
Faced with the prospect of choosing which songs to record for their next album, the guys have been playing a handful of shows to test new ideas out. Bar Bloc was the scene of the crime the other night and the venue's smoke machine was working overtime to transport us back in time to Top of the Pops 1990s era.
The new material is "out there". In the best possible way. It's like they've subconsciously gone 'popular rock music is fucking boring, get this down ye!' and then pulverised expectations with a godzilla stomp. Fat Goth don't play by anyone else's rules but their own and even then you get the impression that they don't like rules. If rock music is supposed to rebel and not always be understood, Fat Goth continue to expose how piss poor the popular vote has become.
Comparing the songs off STUD to the new material is like comparing the TV show '24′ to The Wire. As far as Fat Goth is concerned, there will be no handholding from this point onwards. Do not expect anything less than artistic mastery at work. There are no alt-rock wannabe anthems here, only fast complex prog-metal designed to enthrall, delight and amaze. One of the new songs has a breakdown section that will leave your jaw on the floor. It's a bit like John Peel playing a Tool record so fast it finishes in 1/5 of the time. Somewhere between post-punk and prog-metal this band have decided to set up camp and wake the dead.
Out there? I reckon Fox Mulder would approve.
Share This Article...