Friday bank holiday weekend and my brain is knackered. With limited can-be-arsed-ness available there's only one band I want to write about this evening and that's THE WON OVER. The fact they have a few gigs in Dundee on the horizon makes it a happy coincidence. 
Indie rock can mean so many things these days that the phrase is almost meaningless.
Arena indie rock, smartphones held aloft taking pictures, is the place where passion goes to die. Few bands can carry their early passion and artistic integrity with them into bigger venues, and that's presuming they had any to start with. New-ish Dundee band THE WON OVER are as non-careerist as you'll get but that doesn't stop them writing massively infectious guitar led indie pop.
Along with The Yawns, they have something going for them beyond the individual riffs and harmonies. You only pick up on it when they play live.
Stereophonics and Teenage Fanclub can both be described as indie bands and yet any knowledgeable music fan knows the difference between them. Seeing and hearing The Won Over live helps you understand why they're spiritually closer to Teenage Fanclub, writing uplifting music that sounds as if it was forged after dark stormy nights spent in a Game of Thrones-esque tavern.
Capturing this collective spirit on record is always going to be tricky so let's be thankful that their debut recordings on bandcamp are solid if unspectacular.
Repeated listens only served to remind me just how much I enjoyed their very first live shows. Considering one of the guitarists, Owen McLaughlin, is better known locally for his endless DIY gig promotion of US/UK touring bands as well as knocking out hardcore riffs in his other band Bonehouse, it's quite a departure to hear him play anything this accessible. Other band members Paul Byrne, Michael Lambert, and Russell Bennett make up this outfit that ideally would gig further afield more often if they could find the time.
Hearing them live is the best way to understand what they're about so catch one of their gigs when you can. Especially as some of Dundee's best creative collectives never lasted very long such as The A Forest.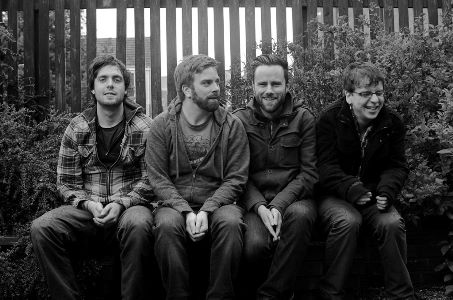 UPCOMING DUNDEE SHOWS
Sat 25th May @ Duke's Corner, Dundee with Chris Devotion and the Expectations
Sun 2nd June @Duke's Corner (afternoon acoustic set) with Little Anchors
Tues 11th June @Non Zeros, Dundee with Among Brothers and more
Share This Article...