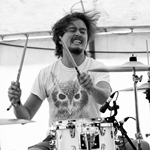 As much as I prefer to focus on one artist, band or theme per post most of the time, today is not one of those days. Sitting on a train for nine hours will do that to you. Here's a roundup of news and links to excellent tunes, gigs and press updates.  
Nine hour commute to the other end of the country today means I had planned on knocking out a quick post on the new Jetplane Landing single 'My Radio Heart'. Unfortunately I can't find the online press release or the place where it's streamed so I'll have to do it another day instead. If you haven't already heard it then believe me when I say it is a standout pop tune from an otherwise hard hitting rock record.
Yes, one day I might craft a post entirely out of song lyrics. Anyways… due to my impending brain shutdown due to sleep deprivation, I'm going with a bulletin style post tonight.
The Hazey Janes have finished recording their new album so we can look forward to that potential pop masterpiece.
Fat Goth are gathering even more critical acclaim, this time from their Wickerman Festival appearance.
The Birthday Suit to play haddowfest in Edinburgh. Go get your tickets now!
Vice.com published an excellent summary on the demise of the UK indie pop industry. Definite must-read.
New Zealand and Pet Piranha faves Die! Die! Die! are back touring here again so please, please, PLEASE Go See Them!!!
Verse Metrics' 2012 EP of math-pop tunes is available now to stream on Spotify.
Battery Face, one of my fave Glasgow bands, is playing The 13th Note tomorrow (Thursday). Get down there if you want your face melted off with inventive rock noise.
That's your lot, I'm off to collapse into bed. Night!
Share This Article...