NILK at the Botanics is the micro-festival that deserves a special place in the hearts of art and music lovers everywhere. Here's a few words about my experience of it this year. 
In Glasgow there's so many music and arts events on every night of the week that you are truly spoilt for choice. Not so in Dundee. Which is why I'm surprised I'd not heard of NILK before.
Short film screenings and live music in the Botanic Gardens sounded like a fabulous idea and as it turned out, the weather couldn't have gone better for a bright September's day.
The Rusty Hip Collective's involvement resulted in two all-day stages of live music.
One for guitar based bands and another for DJs and experimental tunes. Patrons wandered between the screenings, the live music, and sitting on the grass amid the beautiful scenery. Having lived in the city for almost ten years I scratched my head as to why I'd never thought of this setting myself!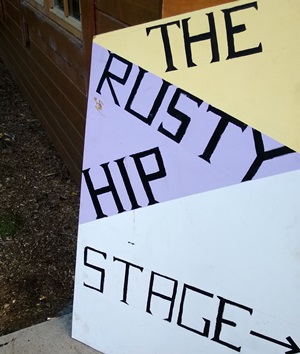 Getting the balance right between quality and helping new bands to get a gig is never easy, yet the Rusty Hip crew appear to be pulling off this rare feat every time they put on or contribute to an event. Again I saw bands I'd never heard of before. Again one of them turned out to be a serious contender for Your New Favourite Band.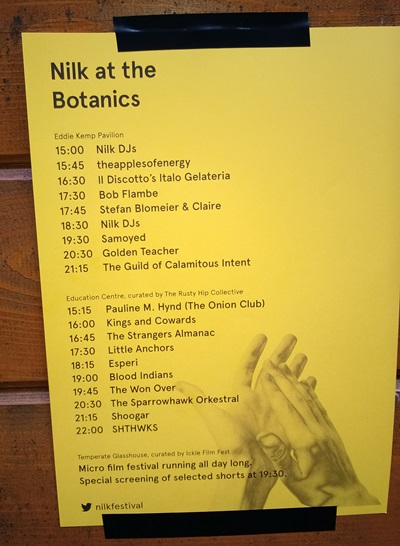 There's been a lot written about the fantastic FAT GOTH in 2013. If I had to give you a tip for 2014 it would have to be THE SPARROWHAWK ORKESTRAL.
Easily the best thing I've heard in ages, the fact they have a debut album recorded and due out in the near future makes me happy. I'd be surprised if it isn't amazing.
Of course other bands and artists at NILK impressed too. LITTLE ANCHORS played their first gig as a full band featuring Ross (ex-Pensioner), Owen (Bonehouse/The Won Over), Kev (Fat Goth), and an energetic drummer called Kenneth who looked like he had the skills to jam with The Mars Volta if given half a chance.
ESPERI provided another example of inspired twinkle-core loveliness. THE WON OVER continue to sound like the best indie band from Scotland capable of filling The Hydro that nobody's heard of. To evoke such majestic imagery while displaying none of the careerist tendencies that indie bands managed by journos tend to have, makes them rarer than a Dundee music promoter funded by Creative Scotland.
I had planned on seeing BLOOD INDIANS but had to nip out for an hour to check on my girlfriend's dog Snoop. Ah, the days of getting slightly drunk with Kris Keiller at shows seem like a distant memory. Apologies if I haven't namechecked your band or DJ set, I didn't see enough other acts to form a solid opinion. Honest! There's also the danger that I'll describe the wrong bands given that NILK was a few weeks ago.
With so much great music and catching up with folk to be done, I didn't even get round to taking in any of the film screenings. That's sacrilege for a film fan and especially one who makes an effort to seek things out off the beaten path.
There's always next year.
For more info visit:
https://twitter.com/nilkfestival
https://www.facebook.com/TheSparrowhawkOrKestrel
https://www.facebook.com/littleanchorsmusic
https://www.facebook.com/pages/esperi/119581759826
https://www.facebook.com/thewonover
https://www.facebook.com/BloodIndians
Share This Article...