LIVE REVIEW: Indie slackers Big Deal evoke the spirit of Sonic Youth and Dinosaur Jr with a poppier delivery while band members Underwood and Costelloe sing in unison. They're like the physical embodiment of the song 1979. If only we could do something about the tumbleweed. 
It's not unusual for touring bands with ideas above their station to throw their toys out of the pram. Expecting the venue Broadcast to be busy for BIG DEAL I was there when doors opened. By the time the headliners walked onstage I counted twenty people in the room excluding the support bands. This is the kind of turnout I'd expect in Dundee in June when the student population of two universities has skipped town. But Glasgow? This is unusual. I wondered how the band would react.
Three bands had gone on before them. Openers Sean Armstrong Experience (singer from The Yawns playing with friends from other local bands) were fun in a loose slacker pop way that was the most inkeeping with the headliners' own sound. Next up were Kill Surrrf who are not my cup of tea. If bands like The Strypes float your boat then you'll like them. Just don't be surprised if I torpedo you from my nuclear submarine while on my shiny new Playstation 4.
ONE FLEW OVER THE GARDEN
This was my first time hearing GARDEN OF ELKS in the flesh. Singer-guitarist Niall (who also jams in Bronto Skylift) told me afterwards that they'd battered through the set with a temporary bassist helping out. That surprised me because if anything the bassist was the only one that didn't look like he was wrestling his instrument as if it was a hungry crocodile.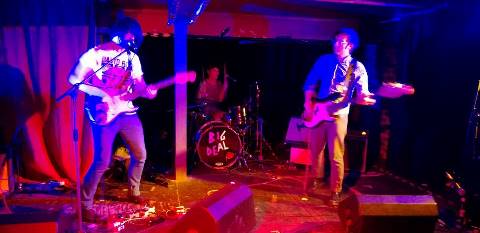 Drummer Kirstin (I'm guessing names from the back of their CD) has that look you get when you're trying to kill a wasp with a brick and you've missed twice. Hard to tell if it was drumming or wasp genocide. Meanwhile Niall laughs in the face of guitar snobs and conjures up a sound that is one of the most anti-guitar rock tones you'll ever hear. Lo-fi doesn't even come close. Indie rock didn't know what a lobotomy was before these crazies were fed after midnight and let loose. Ones to watch out for.
OH SO QUIET
With Big Deal being from London instead of a more exotic locale, it must have seen them fall short of the required local hipster points quota for gig-goers to show up. It's so quiet you can almost hear a pin drop between songs.
For the twenty-odd non-support band people in attendance it's a decent show despite the total lack of atmosphere. The band themselves look bemused by the turnout and rattle off their set professionally but with little in the way of banter.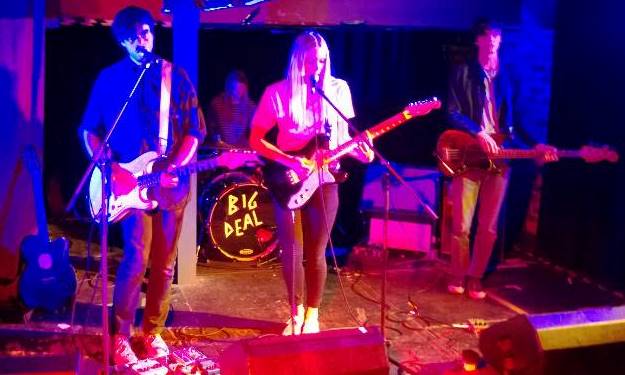 In their defence, the toys stayed in the pram and they didn't look as if they'd rather be somewhere else. Bands who don't respect the people who have taken the trouble to show up usually don't last long.
The set sounded as if it was mostly culled from the new album 'June Gloom' which features the slacker-tastic "In Your Car". Having listened to it before the gig, I prefer the record to this live show. I won't be too harsh though because without an atmosphere it's not easy for any band to crank it to 11. The same set played to a full house at the Barrowlands could be an entirely different experience. We can but hope!
On the plus side, the band hung around the merch table afterwards chatting so it wasn't like they had any attitude about it. Whatever possessed me to buy only the compact disc when the 12″ and CD was £20 I'll never know. BIG DEAL could turn out to be as big as Yeah Yeah Yeahs if they write a few more catchy songs. They definitely share a similar vibe. Check out the video below for "In Your Car".
BIG DEAL OFFICIAL BAND WEBSITE
BIG DEAL ON FACEBOOK / TWITTER 
Share This Article...